Skip to main content
We're an Old Company With a Young Heart. It's all started From an Early Morning Initiative Idea.
About Us
Future is not a mystery for us because we are building it.
Smart City solutions, Smart Converted Containers, and Industrial Automation Solutions are our expertise. We are committed to living up to our name. Future Sky Equipment is not just  a registered name for legal reasons; it is a goal; it is a way of life.
We are in sync with our environment, Dubai is growing faster than ever, and its vision is a smart, futuristic and green life. We search for a better future in everything, better future in industries, better future in cities, even we look for a better future sky…
Kicking off our adventure in Dubai with the name Hoda. Becoming Autonics representative for the middle east region..
Registering the name Future Sky Equipment and focusing on industrial automation exclusively..
Launching Dubai-sensor.com website as an online shop for industrial automation..
Becoming the representative of famous and authentic brands of industrial automation from Europe.
Becoming Hogller representative in the region for pressure transmitter products.
Start of Smart city department to expand our smart technology adventures.
Start of smart converted container department.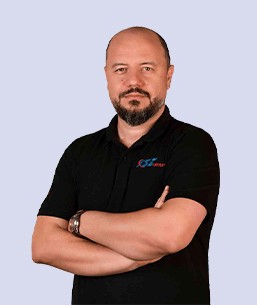 Our mission is to connect the world's top suppliers with the UAE companies providing mutual benefits and growth.
Amir Hossein Souri
Chief Executive Officer
Converted containers
Forget laying bricks and stones, long-awaited finishing time not met with your contractor. Future is different. Future of accommodation is easy, fast, smart, portable and many other things. Converted containers are the future of housing. Homes, offices, businesses will be cost efficient and convenient. Watch how we are doing it…
Thanks to our automation background, we make our converted containers smart and self-tuning and you can monitor and control them with your phone from wherever you have internet.
You are not a tethered balloon. You can move whenever you need to or feel like it. A main option from our converted containers is that you get external trailer to move easily.
Even though we have different models for different budgets, overall a converted container will cost much less in construction and maintenance.
+100
Smart Container Products
+50
Container Applications We Support
+300
Free Pre-order Consultation
SMART TECHNOLOGY
As a part of one of the most futuristic cities in the world, we have started a smart technology department in 2021 and now we provide smart city services for different business segments.
25
Smart City & Industrial Projects
26
Smart Applications We Support
INDUSTRIAL AUTOMATION
We started out and carried on with one motto in mind "make everything easier for customers", and in industry supplying equipment is the number one priority. To achieve this, we developed our relations with European brands and made our supply chain stronger every day.
Being in this list means you are really good at what you do, you are tried and tested and reliable in supplying products in time. Future Sky Equipment is proud to be representing the brands here in the region or UAE.
Management
Amir Hossein Souri
Chief Executive Office
Amir Hossein is a hands-on, in the field, first to show up executive manager. Years of experience in industrial automation, IT, production and smart technology guarantees that we are in good hands.
Ali Vaghar
Board Member
Mr. Vaghar is a supportive, long running member of Future Sky Equipment board of directors with a clear vision for the future.
Mehrdad Esfandiary
Marketing & Development Manager
Mehrdad, aka man of new challenges, brings a new light to our everyday life. He loves marketing and if he is not marketing, he is googling about it somewhere.
Mohammad Ali Souri
International Sales Manager
Mohd. Ali is young and inspiring. He handles overseas and complicated inquiries, the more challenging the case, the more he is excited to do it.
Join Us
If you wake up with a new idea every day and want something more in life, click the link below to let us know.